It's January, which means it's comp season for many law firms…soon to be followed by an influx of lateral candidates who were unhappy with their pay, looking to cash in on a good year, or, maybe, being encouraged to "consider other professional opportunities."
It's imperative to go into negotiations fully aware of how the market is pricing legal talent, however this is only just one (albeit critical) component of adopting a comprehensive talent sourcing and due diligence process that will protect your firm from risky hiring.
Decipher Investigative Intelligence extensively tracks data on partner-level candidates throughout the AmLaw 100, 200 and beyond, and has distilled several data points of interest for law firm leaders who will be hiring laterals or setting compensation.
Here's what the numbers from the last two years reveal:
A shift in hiring priorities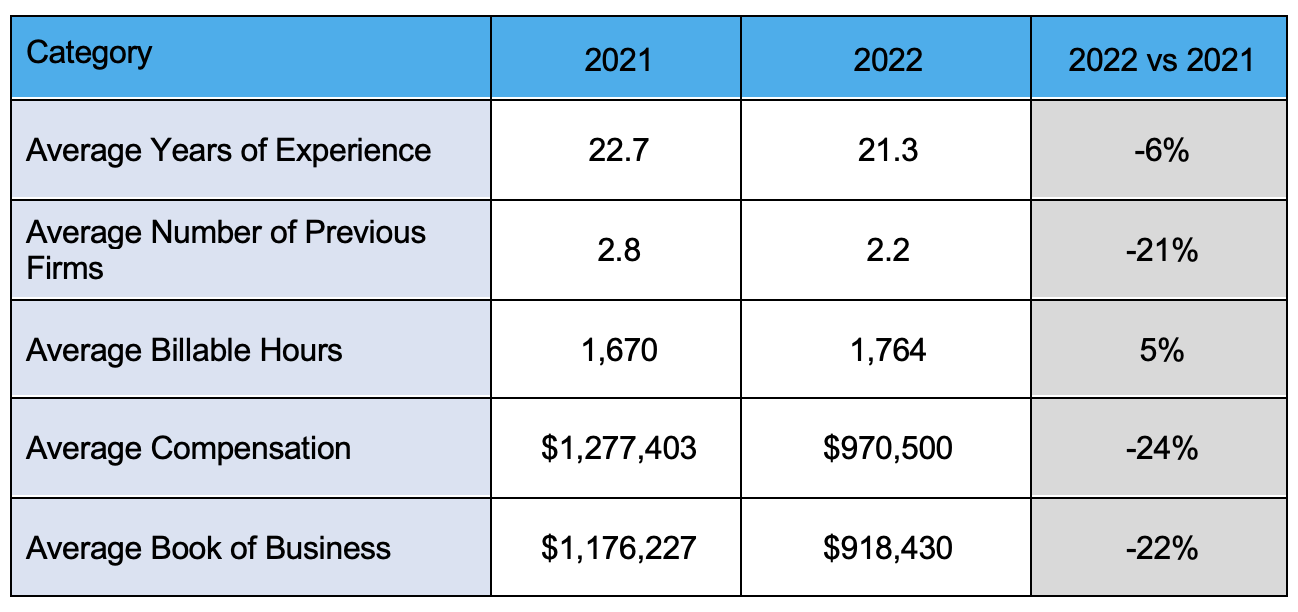 The bottom line: The lateral partner compensation gold rush is likely over. Although there were  more overall partner-level hires in 2022 than in 2021, there has been a general "sobering-up"  with regard to lateral partner compensation. Throughout 2021 and early 2022, as we all recall, there was an absolute free-for-all in terms of hiring; firms needed bodies in seats at all levels, and they were willing to pay for it.
But when you look at lateral hires in  2022 as a whole, partners worked more (billing 5 percent more hours); made less (by almost 25 percent); and reported less business (by more than a fifth).
So, the "gold rush" is likely over, or at least receding. And the market is migrating towards service partners, rather than to purported rainmakers who claim they can bring in millions of dollars in business.
Compensation benchmarks
The bottom line: The high-end hiring boom is slowing, as reflected in the Compensation-to-Book of Business ratio data.
In 2021, firms were paying over the odds for for high premium talent (75th percentile of candidates) – lateral partners who said they could bring large books of business. In 2022, the Comp-to-Book ratio decreased by almost 10 percent for these same high-end partner-level candidates. Whether it was a shift in demand towards service partners or the sting of "rainmaker" candidates who failed to perform, in theupper tier of lateral recruitment, firms stopped paying 72 cents on the dollar for lateral books.
The rise of the mid-career partner
While the high-end market cooled off, firms were willing to pay more for mid-level partners in 2022. Candidates in the 50th percentile were compensated at a significantly higher rate (as a percentage of their book) in 2022 and had a higher Comp-to-Book ratio than candidates in the low and high ends.
So, firms are trying to identify up-and-coming partners, need experienced attorneys to handle increased workloads, or both. Further, the data also demonstrates that the availability of mid-level partner candidates likely dried up (causing demand for these partners to increase) after 2021's hiring surge as the lateral market skewed younger in 2022 at the high and low ends.
What this means for you
As always, we counsel firms to proceed with caution when recruiting laterals: According to a Decipher lateral recruitment survey, nearly half of law firms – 47 percent – say the majority of their laterals underperform when it comes to bringing their book of business. Almost 70 percent said that in the past five years, they've had a lateral leave for failing to bring business over from their old firm.
The key to ensuring lateral ROI is to start with actionable intelligence and source candidates based on hard data – not on hunches or emotion. Using compensation benchmarks like these can be a good start; to learn more about lateral due diligence and data-driven talent strategies, contact us today.