More than halfway into the year, it's clear that 2023 will, despite some significant headwinds, be another banner year for lateral partner moves: As of Q2, partner moves were up 20 percent over the previous six-year average.
In this environment of increased mobility and intense competition for top talent, it's imperative for law firms to understand who is in the legal equivalent of the transfer portal, how much they will cost, and how risky they might be.
Decipher Investigative Intelligence profiled hundreds of lateral candidates during the first half of 2023 and developed a set of actionable data about the current lateral pool:
Today's "Average" Candidate
As of Q2 2023, the average partner-level candidate had:
21.5 years of experience
3.1 previous employers
1,588 billable hours
$1,146,903 in compensation
$1,721,412 in book of business
Compared with what we saw in 2022, it's notable that these candidates:
Work less: Billable hours are down 12 percent from last year.
Earn more: Average compensation is up 16 percent.
Claim larger books of business: The average book of business – as reported on Lateral Partner Questionnaires – is up a whopping 86 percent.
Average Book of Business: Trending Up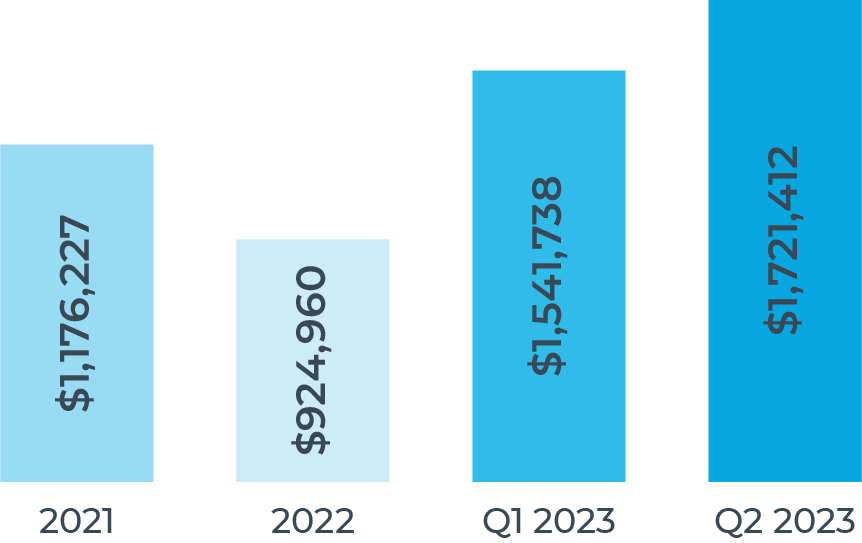 This final bullet – portable business – merits law firm scrutiny. Partners who claim to be working more than 200 fewer hours are also claiming to have nearly $800,000 more in revenue. This merits follow-up and due diligence, especially if a partner is a "lone wolf" attempting to join without a team to service the work.
Lateral Compensation Trends
Decipher's compensation-to-book ratio shows how much law firms will pay for each dollar of anticipated revenue – an important benchmark for firms negotiating in the second half of 2023.
In 2021 and 2022, the number was extremely elevated because of the fierce race for talent in the market. Law firms overpaid for talent with a 45 to 50 percent premium.
So far in 2023, the number has come back down to Earth, with Q2 ratios 40 percent lower than 2022 levels. Firms are now paying, on average, in the 60 percent range, although it is trending slightly up as the year progresses.
Average Compensation to Book Ratio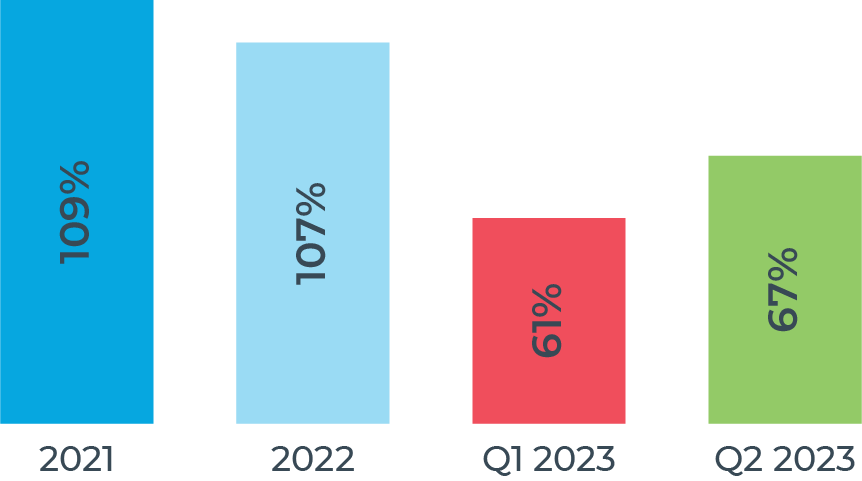 This could indicate that the market is getting more competitive, as we have (seemingly) avoided a recession and law firm pursestrings have loosened to pursue growth strategies, at least at the partner level.
2023 Lateral Threat Levels
So far this year, the 2023 pool of candidates carries more risk than past years, with 82 percent raising red flags in the due diligence process. That's up from 76 percent in Q2 2022 and 70 percent in Q2 2021. Not only are red flags overall higher in 2023, but major red flags are up: 21 percent of candidates in Q2 had issues of serious concern, up from 15 percent for the same period in 2022.
For context, "red flags" cover a spectrum of irregularities, ranging from major issues to minor inconsistencies. Major issues can include commentary related to questionable legal skills or personality concerns (#MeToo, screamers, bullies); objective background problems (tax liens, undisclosed business interests, bankruptcies); or inflammatory social media content. Examples of minor issues include employment disclosures or irregularities; undisclosed information on the Lateral Partner Questionnaire; a low recognition rate in the market; or a general lack of intel.
The most frequently occurring Q2 2023 red flags:
Employment discrepancies: 41 percent of all candidates;
Negative commentary on business or legal skills: 29 percent;
Undisclosed legal history: 11 percent;
Problematic social or traditional media content: 11 percent.
While some of these discrepancies can be rationally explained, negative commentary on one's legal skills could be a straightforward disqualifier – and it's alarming that nearly one-third of this year's candidates have prompted it.
It's also worth noting segments with higher-than-average red flag rates. (On average, in Q2 2023, each candidate surfaced 1.8 red flags.)
The riskiest markets are Chicago, with 3.1 red flags per candidate, and New York, with 1.9.
The riskiest practice areas are Intellectual Property, with 3.7 red flags per candidate; Real Estate, with 2.8; and Corporate, with 2.1.
Takeaways for Law Firm Leaders
Lateral partner recruiting is still hot: While 2023 doesn't have the frenzied feel of 2021-2022, lateral partner movement is still up 20 percent over the previous six-year average.
Lateral partners may cost less (for now): In Q2 2023, the average compensation-to-book ratio was 67 percent. This was a steep decline from the over-100 levels from years prior, but shows a slight increase from Q1's 61 percent. Law firms should heed these benchmarks to ensure their compensation is set to market rates.
Due diligence remains critical: The average lateral candidate is claiming a book of business 86 percent higher than 2022, and the red-flag rate is up; in Q2 2023, nearly one-third of candidates elicited negative commentary on their business or legal skills. Any law firm looking to grow through lateral partners must commit to safeguarding culture, reputation and revenue on the front end; this means thorough and thoughtful due diligence for every hire.